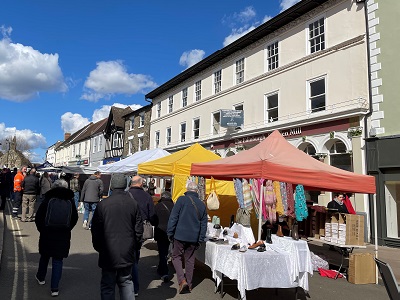 Guide to help you grow your business at West Suffolk markets
Tuesday 5 April 2022
It's a great opportunity to turn creative hobbies into livelihoods and to further grow kitchen top business – and now there's even more support for new market traders.
West Suffolk Council already helps new stallholders with gazebos and insurance costs while they trial market trading, while the pitch fees, which are kept low, help cover the clean-up costs and business rates that the council pays on behalf of the market.
Now it has created a new guide full of advice and information for anyone considering becoming a market trader including potential sources of funding to help them start up their business.
Julie Baird, Director for Planning and Growth at West Suffolk Council, said: "We know that after the past two years, lots of people will be taking stock of their lives. Some may have lost their job while others may be actively looking to change their careers and perhaps become their own boss.
"We also know that we have lots of successful market traders including some very talented people making items for the home and gift ideas – and that our markets continue to play an important role in the wider recovery and health of our town centres.
"Markets are a great place to start or grow your business, and many traders have, over the years, grown from running a stall to needing a bigger premises such as a shop – all of which contributes to the success and vitality of our local economy.
"We hope that this guide will encourage anyone considering trading on our markets not only to take up our support and give it a go, but to trial new products, to hone their customer service skills and to grow a successful business here in West Suffolk."
The guide also features some of the stories from traders who have grown onto trading from other business premises in West Suffolk and expanded onto other markets across the district.
One of the traders, Julie, has been weaving her way to success on West Suffolk markets. After starting out on Brandon market in 2018 establishing Just Yarn by Jules, her business soon gathered enough custom to begin trading on Mildenhall market.
"When I first started trading it was all new to me and the West Suffolk market team were very supportive from the start, helping my business with advertising and encouraging me to try different markets within the local area.
"I love the community atmosphere created around market day. I have received support from the other friendly traders, as well as support from the public and I truly appreciate their loyalty.
"With the help of Menta, I am fortunate now to combine working on the markets and being able to offer a bricks and mortar shop experience for the local community, from where I can now offer workshops, classes and social groups."
Traditional markets take place weekly in Brandon, Bury St Edmunds, Haverhill, Newmarket, and Mildenhall and once a month in Clare.
Markers Markets take place monthly from April through to December in Bury St Edmunds, Haverhill and Newmarket. Where you can shop or sell handmade crafts from small businesses local to the area.
Sophie Clarke, of Sophie Clarke Designs, recently sold her hand-woven products at a pop-up stall in John Lewis, Cambridge. Some of Sophie's success can be threaded back to the Makers Markets where she started selling last year. She also won the Arts and Crafts category at the National Market Traders Federation Young Trader of the Year Awards 2021.
The Makers Markets are supported by the Suffolk Inclusive Growth Investment Fund (SIGIF) following a successful bid by the Council in March 2021. A total of around £20,000 of SIGIF funding has been used to supply gazebos, their transport, advertising, banners and bunting to support the Makers Markets.
The Suffolk Inclusive Growth Investment Fund (SIGIF) was established by Suffolk Growth following allocations from Suffolk Public Sector Leaders (SPSL) and New Anglia Local Enterprise Partnership (NALEP). The Fund supports local, place-based economic recovery from COVID-19 across Suffolk.
If you are interested in becoming a trader, please contact the Market Development Officer at economic.development@westsuffolk.gov.uk or access the market trading guidance.