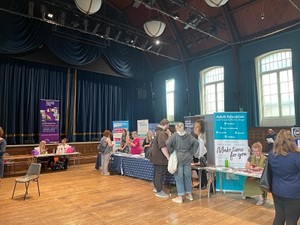 Haverhill to host jobs and skills fair
Monday 26 June 2023
West Suffolk Council and the Department for Work and Pensions are collaborating to host an empowering Jobs and Skills Fair.
The event is set to take place on Tuesday 4 July from 10am to 12.30pm at Haverhill Arts Centre. Designed to engage individuals and connect them with a range of opportunities, this fair provides a resource for job seekers and those looking to upskill.
There will be numerous organisations participating, including finance, leisure, pharmaceuticals, and public services. Attendees will have the invaluable opportunity to meet employers representing various sectors, who will share information and discuss available positions. There will be opportunities for individuals from all backgrounds and skill sets. 
In addition to engaging with employers, visitors will gain access to a wide range of support services. Representatives from the Department for Work and Pensions, as well as other local services, will be on hand to offer guidance on job hunting, CV writing, interview techniques, and career development. 
Cllr Indy Wijenayaka, Cabinet Member for Growth, West Suffolk Council said: "We are delighted to partner with the Department for Work and Pensions to host this impactful Jobs and Skills Fair. Our aim is to support the local community by providing an invaluable platform for job seekers to connect with employers and access resources that can help them secure their desired employment. We encourage everyone, regardless of their current employment status, to attend and take advantage of this fantastic opportunity."
Anyone who is unable to attend on the day can still find out how we can help by contacting skills@westsuffolk.gov.uk