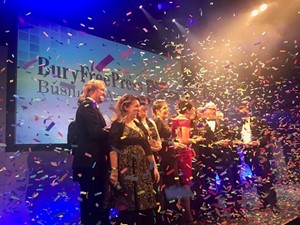 Business Awards 2023
Monday 26 June 2023
Nominations are now open for the 2023 Bury Free Press Business Awards with West Suffolk Council proudly sponsoring the Investing in West Suffolk Award.  Make sure you cast your vote before 15 August 2023.
West Suffolk Council is proud to be sponsoring the Investing in West Suffolk Award, which recognises a business or individual within a business that has made or continues to make investment into West Suffolk.
Cllr Cliff Waterman, Leader of West Suffolk Council, said: "Businesses and their people have faced huge challenges over the last few years with the pandemic and the cost-of-living crisis all having a major impact. Despite these battles we have seen resilience, investment, and success.
"The council has a role in supporting the sustainable growth of the economy across West Suffolk for the benefit of our communities and the UK economy. Some of that is through our own investment, some of it is about attracting investment to our area, and some of it is capturing those opportunities that are ours to take as part of the World leading innovative, Cambridge sub region. All of it is about helping businesses large and small to succeed. 
"That's why I'm thrilled that the council is sponsoring the Investing in West Suffolk award. Investment isn't just about money and buildings. It's also about people, development and skills, succession planning, new products, new markets, sustainability, the environment and our future. It's about courage, initiative and leadership. It's important to recognise and celebrate achievements like these which is why I'm very much looking forward to the West Suffolk Business Awards."
The award winner may be:
a small family business that continues to grow in the area
a larger business that has flourished and grown from its West Suffolk base
an individual who continues to be an ambassador for the area
a commitment to staff and skills development
a wider contribution to the West Suffolk community through the creation of a social enterprise or the delivery of a programme of corporate social responsibility
or indeed, a number of the above.
Businesses entering the West Suffolk award must be based within the geography of the West Suffolk Council area.
Nominate a business or person for this years Bury Free Press Business Awards
The awards ceremony will take place on Friday 13 October 2023 and is the culmination of this year's West Suffolk Business Festival. Find out  more about this year's Business Festival.