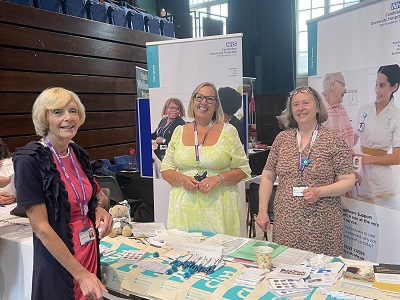 Local businesses and people attended the Haverhill Skills and Job Fair on Thursday 21 July.
Monday 25 July 2022
The event, delivered in partnership by West Suffolk Council and Department for Work and Pensions (DWP) was open to the general public and followed on from the success of a similar fair in Newmarket earlier this year.
17 local employers and training support providers attended, all with job vacancies they were keen to fill. There were a variety of positions available to jobseekers, from nurse apprenticeships to welders.
Cllr Susan Glossop, Cabinet Member for Growth, West Suffolk Council said: "I am pleased to see a second Skills and Jobs Fair take place this year in West Suffolk as it is a priority for the council to support skills development and boost economic growth. By working in partnership with the Department for Work and Pensions, we have delivered another successful and well supported fair for local people and businesses."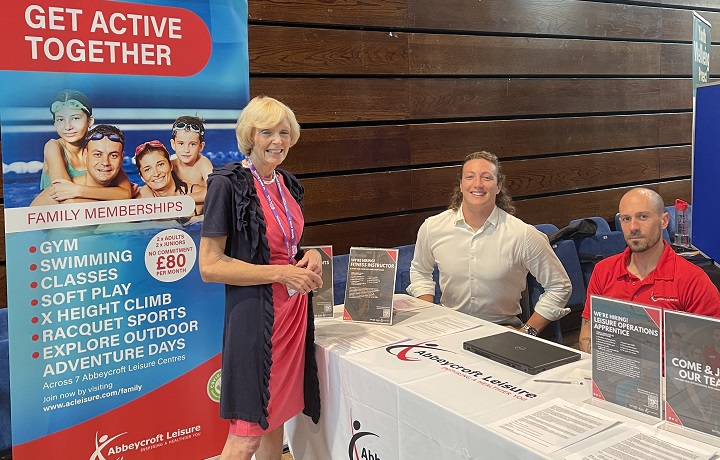 DWP said: "We are delighted to have worked with West Suffolk Council to run these fairs to highlight the job and training opportunities that are available in the local area. We know how important it is for people to be in work, both financially and mentally, so supporting initiatives such as this is crucial."
Ellie Clements, Management Assistant, Claydon Drill, said: "It has been an incredible day; we have met some really diverse and interesting people and it has been a great opportunity to promote the business. Claydon are recruiting heavily at the moment as we are growing exponentially, so it is a really exciting time to join the team. There are a variety of roles available, including apprenticeships and trainees, overall we are really keen on getting people into work."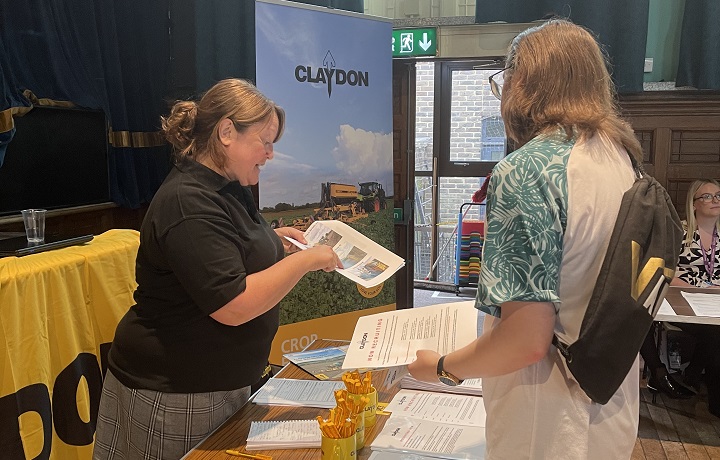 The Economic Development and Growth team at West Suffolk Council works with a range of providers to offer local businesses access to a host of initiatives, ranging from upskilling their current workforce, to recruitment and funding. The council want to encourage as many businesses as possible to sign up and make use of the support available.
The New Anglian Local Enterprise Partnership are looking for input from local employers to help shape how Skills Bootcamps may work in the region. Skills Bootcamps are designed to offer free, flexible training courses to support workforce and recruitment.
The Pathways Training Fund provides small and medium-sized enterprises (SMEs) up to 75 per cent 'cash back' for training of individuals on topics including digital skills, leadership, wellbeing and customer service. Pathways 50+ is available for employers based in Norfolk or Suffolk where they can access a grant worth £1950 to support the recruitment of a person aged 50+ with the creation of a work placement.
The Supply Chain Skills Development Fund (SCSDF) offers SMEs within Norfolk and Suffolk a flexible fund for training. It aims to benefit both individual employees and local employers.
Supporting people to access the skills they need is a priority for the council, the Economic Development team work to promote a range of programmes on offer to local people, these include the Plan for Jobs and The Skills Toolkit.
Locally there are many opportunities for employers and Jobseekers, including part and fully-funded training, listed on the West Suffolk Council Skills webpage.
Anyone who was unable to attend on the day can still find out how we can help by contacting skills@westsuffolk.gov.uk