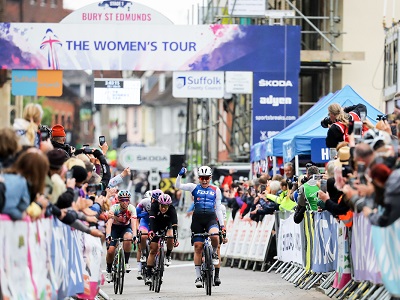 Women's Tour draws in the crowds and boosts the economy
Thursday 3 November 2022
In June 2022 West Suffolk welcomed back the Women's Tour. Bury St Edmunds hosted the finish to the first stage of Britain's biggest professional women's cycling race, marking the towns third appearance in the race's history.
Bury St Edmunds was involved in the inaugural race back in 2014 and Haverhill hosted the start of the sixth stage in 2021, making the race a key event in the local calendar.
This year an estimated 3,000 people attended to cheer on the cyclists as they whizzed towards the finish line in the town. 
Those at the finish line witnessed Frenchwoman Clara Copponi win the opening stage, claiming the first victory of her road racing career. 
Supporters also tuned in across the world; Eurosport viewing figures for stage one was the highest out of all the stages with 349,500 views, additionally the stage one highlights were featured on ITV4 to an audience of 111k. 
Not only did the spectators support the race, but they also supported the local economy too, with the estimated net economic benefit for Suffolk being over £600,000. 
Cllr Jo Rayner, Cabinet Member for Leisure, Culture and Community Hubs, said: "We were delighted to welcome back the Women's tour to West Suffolk. It has always been a great spectacle, drawing in a huge crowd from across the country. The tour had a positive impact on our local economy, helping boost tourism in Bury St Edmunds and the surrounding area. West Suffolk sponsors events like these to help support and inspire residents to lead healthy and active lifestyles."
Warren Smyth, chief executive at Abbeycroft Leisure said: "We were proud to be involved in yet another successful Women's Tour event for West Suffolk."
"As a social enterprise our work in the community, providing opportunities for everyone to be active is very important to us, so we were happy to facilitate community engagement on the day as well as working closely with all partners to help deliver such a worthwhile event for the county."