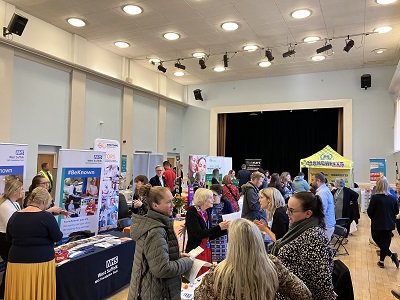 Mildenhall to host jobs and wellbeing fair
Tuesday 21 February 2023
Local people and businesses are invited to attend a local jobs and wellbeing fair on Tuesday 28 February, 10am to 12.30pm at the Mildenhall Hub.
If you would like a change of career or want to upgrade your skill set, then come along to find out which local employers are hiring now and discover a variety of courses available. A range of sectors will be there, including retail, hospitality, manufacturing, leisure and local government.
The fair will also have a wellbeing section where local organisations offer a variety of support will have stalls. Attendees will be able to meet local museum services who have volunteering opportunities and activities for families, Multiply who offer wellbeing advice and employability support, plus The Literacy Trust will be on hand to offer guidance about reading for children and adults.
The event is being delivered in partnership by West Suffolk Council and Department for Work and Pensions (DWP) and follows on from the success of similar fairs in Newmarket and Haverhill in 2022.
Cllr Susan Glossop, Cabinet Member for Growth, West Suffolk Council said "I am delighted to see a jobs and wellbeing fair take place at the Mildenhall Hub. By working in partnership with the Department for Work and Pensions to deliver the fair we can support skills development and the wellbeing of our workforce and communities. Bringing together local employers and organisations under one roof, enables people to easily access the opportunities that are available to them within the area."
Anyone who is unable to attend on the day can still find out how we can help by contacting skills@westsuffolk.gov.uk