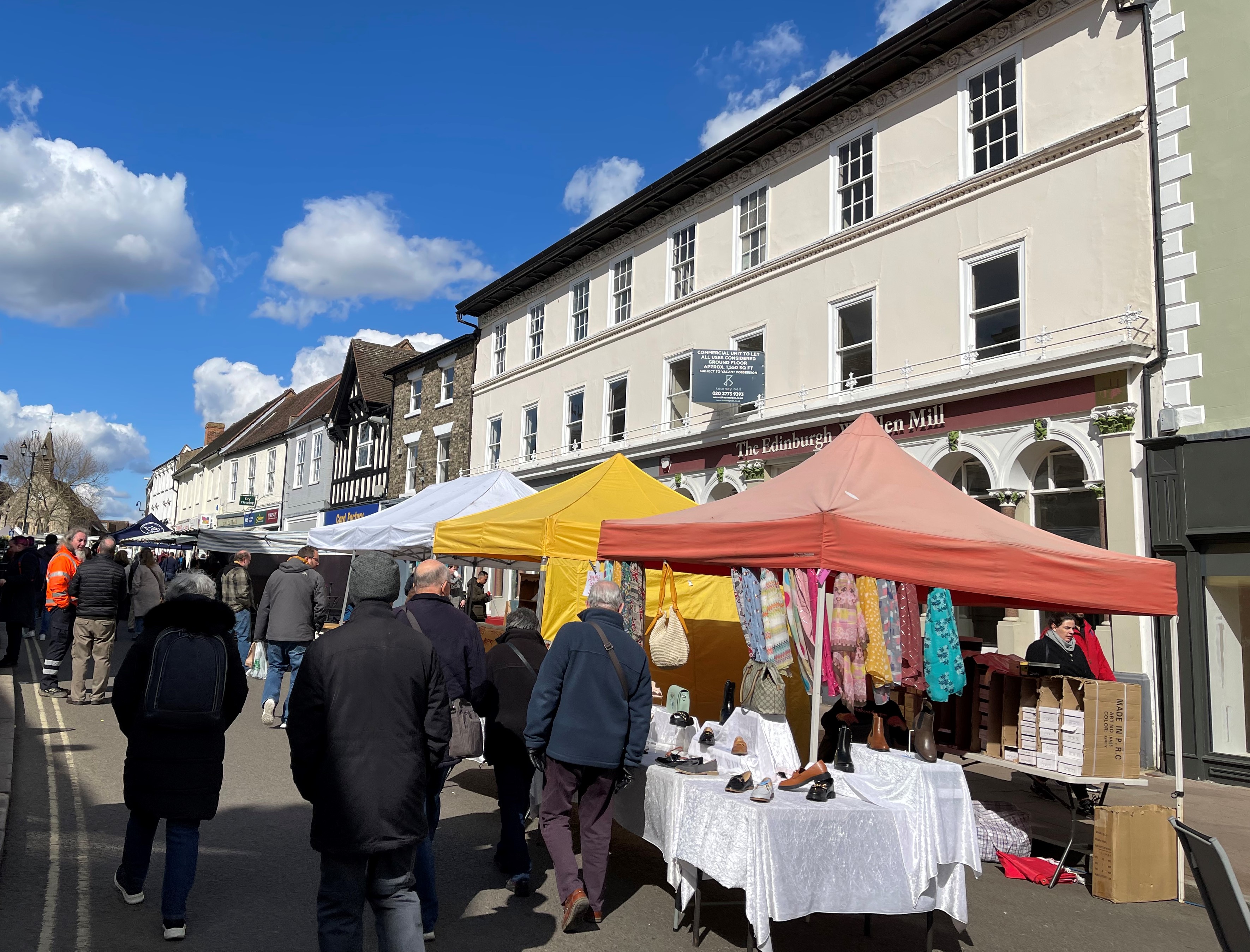 Makers Markets 2023
Tuesday 28 February 2023
The popular monthly Makers Markets will be returning to Bury St Edmunds, Haverhill and Newmarket from March.
Throughout the year, shoppers are treated to a variety of stalls selling homemade products such as ceramics, sweet treats, hot food, woodcraft, original artwork, homeware, needlecraft, candles and soap.
The first Makers Market of 2023 will be held in Bury St Edmunds on Sunday 5 March from 10am to 3pm with over 70 independent businesses and stalls for shoppers to explore.
Haverhill's Makers Market will start on Saturday 1 April from 9.30am to 3pm. Shoppers can also visit the regular Haverhill street market, with stalls offering everything from fresh produce to children's toys.
Newmarket's first Makers Market of 2023 will be held on Saturday 8 April from 9.30am to 3pm. The regular Saturday market will also be running, where many stallholders have been trading for over 40 years.
Cllr Glossop, Cabinet Member for Growth at West Suffolk Council said: "West Suffolk markets play a vital role in attracting visitors and shoppers to our towns, which boosts the local economy and benefits the community. The Makers Markets offer an excellent opportunity for both new and expanding businesses to grow and establish a network of customers."
Businesses flourish through markets, with regular customers following their favourite stalls to markets across the country. Essex Bakery Brownies, based in Colchester, will be joining the Bury Makers Market on Sunday 5 March and bringing a large customer base with them.
Daisy and Chris, owners of Bulldog Vintage Lighting said: "We thoroughly enjoy trading at both the makers and regular Saturday markets in Bury St Edmunds. We have had many happy returning customers and the surrounding stall holders are lovely too and make us feel very welcome and part of the community."
Justin, owner of Justin Firman Pictures said: "As a new stallholder, I have enjoyed interacting with both customers and other traders. I've found everyone to be very helpful!"
For further information or to apply for a stall, please email markets@westsuffolk.gov.uk