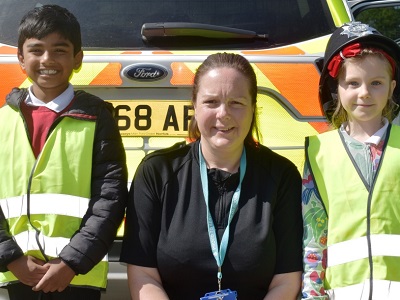 College hosts careers event for primary schools in Haverhill and Cambridge
Wednesday 24 May 2023
Over 200 youngsters from five primary schools in Haverhill and Cambridge took part in one of the only careers events for younger (Year 2, aged 6-7) primary school children in the country on Tuesday 23 and Wednesday 24 May 2023.
The 'Skills Escalator Day' saw a variety of industries create short interactive sessions for children aged between six and seven, giving them a window into the world of work.
West Suffolk College in Haverhill hosted this occasion.
The days were organised by the Eastern Colleges Group (ECG) and West Suffolk College. It (the event) was supported by a range of organisations including Suffolk Police, Suffolk Fire and Rescue Service, HSBC and UK Power Networks. 
West Suffolk Council was also very supportive of the two day careers fest, bringing teams along from Economic Development, Families and Communities and Waste Management.
Victoria Fiebelkorn, organiser of the event and the Skills Escalator Lead for the Eastern Colleges Group, said: "Skills Escalator Days directly link school children with the world of work, to allow them to see and talk to people from the world of work to build in them a lifelong curiosity and passion for the world of work. We run these events across the region as we believe that children need to recognise that any job out there is a job that they can aspire to do. To the best of my knowledge, Skills Escalator Days are the only careers events for such a young cohort in the country. Owing to their great success, we are looking to expand these days by hosting them in other parts of the UK."
Julie Baird, Director for Planning and Growth at West Suffolk Council said: "We were thrilled to be working with West Suffolk College and local partners to deliver the Skills Escalator Days in Haverhill. Last year was a huge success and so was this year, with the children thoroughly engaged and eager to try out all the different activities offered by the employers. These days are unique as they actively encourage young children to think about their education and how it applies to the real world and their future careers."
Miss East is a teacher from New Cangle Community Primary School in Haverhill Primary Academy in Haverhill. She said: "It is a valuable experience for the children as they get to learn about job opportunities and it gives them inspiration for the future. I think this should be a national programme."
Grace, seven also from New Cangle said: "It was really fun. I want to be a police officer so it was great to talk to them." 
Erin, six is from New Cangle. Erin said: "I was here last year. Days like today are good as you see lots of different careers."
Matt Lee is the watch manager at the Haverhill Suffolk Fire and Rescue Service. "The idea is to broaden the minds of the children so they know they have multiple options in the future. It's a great idea to have events like this."
The schools include Coupals Primary Academy, Place Farm Primary Academy, Burton End Primary Academy, The New Cangle Community Primary School and St Mary's Primary in Cambridge.
As part of the ECGs commitment to UNESCOs Sustainable Development Goals, the young children and staff from the schools will all be walking to the event promoting the environmental and health benefits of walking where we live. Each child is provided with hi-vis vests to keep them safe on their journey through Haverhill.